Introduction
Silybum marianum has other common names include cardus marianus, milk thistle. This species is an annual or biennial plant of the Asteraceae family. This fairly typical thistle has red to purple flowers and shiny pale green leaves with white veins. Originally a native of Southern Europe through to Asia, it is now found throughout the world. Silibinin, also known as silybin is the major active constituent of silymarin, a standardized extract of the milk thistle seeds, containing a mixture of flavonolignans consisting of silibinin, isosilibinin, silicristin, silidianin, and others. Silibinin itself is a mixture of two diastereomers, silybin A and silybin B, in approximately equimolar ratio.
Plant source: Silybum Marianum (L.) Gaertn
Appearance:
Brown reddish a
morphous powder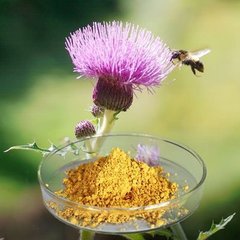 Application: This product is widely used in medicine, health products and food .
Packing and shelf life
Package: 25kg/drum
Storage: In tight, light-resistant and dry place. Avoid direct sunshine.
Shelf life: 3 years if sealed and stored properly.
Silymarin 40% UV
Silymarin 70% UV
Silymarin 70% HPLC
Silybin 80% HPLC
Silybin 85% HPLC
Silybin 95% HPLC
Silybin 98% HPLC
Silymarin 80%UV High Density (acetone)
Silymarin 80%UV High Density (ethyl acetate)
Silymarin 80%UV 20 mesh
Silymarin 50%HPLC Silybins 32% HPLC
Silymarin (as Silybins) 30%~65% HPLC

25:1
5:1